Oakbrook Terrace Illinois
Oakbrook Terrace is a city in DuPage County, Illinois, and is a suburb of Chicago. Per the 2020 census, the population was 2,751. It is the smallest town in DuPage County, in terms of area and population.
Why GnG Tow
Welcome to Grapple N Go Towing, our team of experienced professionals is available to assist you with all your towing needs, from light-duty to heavy-duty towing, flatbed towing, winch-out services, and more. We understand that experiencing a vehicle breakdown or accident can be a stressful situation, which is why we offer prompt and reliable services to get you back on the road as quickly as possible. Contact us today at (630) 524-4444 for fast and efficient towing services.
Locally Owned and Operated
Grapple N Go Towing is a locally owned and operated business that has been serving the Oakbrook Terrace, Illinois area. We take pride in providing our customers with exceptional service, from the moment you call us until the job is complete. Whether you need a tow for a personal vehicle or for your business, we are the reliable towing company you can count on. Contact us today at (630) 524-4444 to schedule a towing service or to learn more about our towing services and capabilities.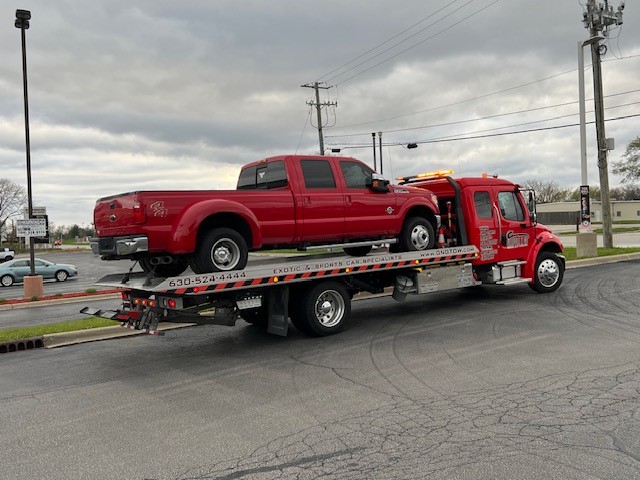 Reliable Towing in the Oakbrook Terrace Area
Customer satisfaction is our top priority at Grapple N Go Towing. Our team of professionals is committed to providing you & Oakbrook Terrace Illinois with the best possible towing services. We have the training and certification needed to handle any type of towing situation, and we work tirelessly to ensure that our customers receive prompt and reliable service. As a women-owned and disadvantaged business, we are also dedicated to supporting our local economy and providing opportunities to those who may face barriers in the workforce. Contact us today at (630) 524-4444 to experience our exceptional service.
Professional Services
We offer a wide variety of services to assist with your towing and recovery needs. We have lots of experience and can handle all your recovery needs. Grapple and Go Towing is on the way to save your day.
Contact Us
Contact us 24 hours 7 days a week. Servicing the Illinois Chicago-land suburbs of Villa Park, Westchester, Oakbrook Terrace, Oakbrook, Lombard, Hillside, Glen Ellyn, Elmhurst, Berkeley and Addison.